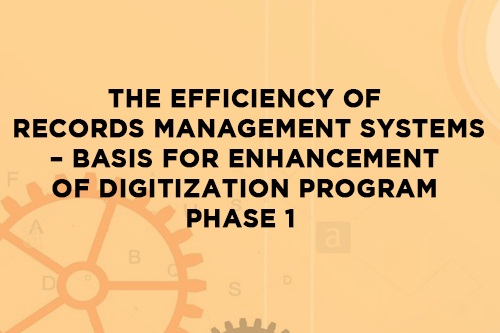 The Efficiency of Records Management Systems - Basis for Enhancement of Digitization Program Phase 1
TESDA Women's Center (TWC) recognizes the value of handling and monitoring all types of information and adapting records management programs to achieve long-term objectives that seek to promote the ability to deliver services in an efficient and timely manner.
This study aims to evaluate the efficiency of the TWC's Records Management Systems (RMS), such as Daily Time Record (DTR), Payslip Generator Tool, and Digitization of Records. It seeks to ascertain the efficiency of the current system for DTR generation, Payslip Generation, and Records Management, determine the key areas of the systems to improve, and establish a baseline for the updating or upgrading of the current systems.
Specifically, it seeks to: enhance the digitization programs of the Center to be relevant to the technology world; provide an effective and efficient service to its employees, personnel, and staff; and provide more organized and systematic access to records.
The research will employ a qualitative and quantitative approach to ascertain the efficiency of the current system.
To assess the efficiency as well as to retrieve comments regarding the DTR and Payslip Generator system's use and accessibility, the research instrument will be a survey questionnaire focusing on measuring the current system's accessibility, accuracy, and overall functionality of the system. For the process of the Digitization of Records, an interview was conducted to assess the challenges encountered in the current process.
The limits of the study will only include the usage of the DTR and Payslip Generator Tools in the setting of TESDA Women's Center (TWC) and the current practice on records storage.
Based on the result of the study, the majority of the respondents clearly indicated the need for correct, accurate, and timely records. Thus, a need for systems development of Daily Time Record, Payslip Generator Tool, and Records Management Information System (RMIS).
Research Home