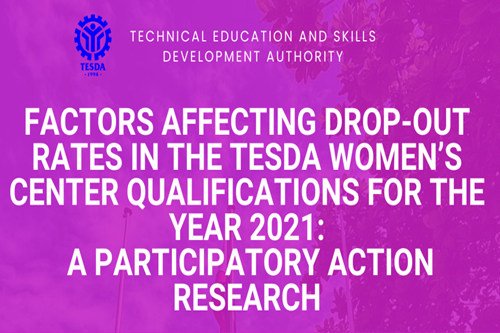 Factors Affecting Dropout Rates in the TESDA Women's Center Qualification for the Year 2021
In 2021, the dropout rate in the TESDA Women's Center increased when the COVID-19 pandemic disrupted global, social, and economic institutions, depleting public resources and exposing many challenges in society across gender, age, and socioeconomic class, and affected the schedules in training institutions. To continue the center's mission of providing quality-assured and inclusive TVET training, a Participatory Action Research was conducted to identify the factors affecting TWC dropout rates in 2021 particularly in With Training Regulation qualifications in a blended-learning setup. A focus group discussion was used to gather data from 21 dropout trainees and 17 trainers. The researcher conducted a qualitative and quantitative content analysis by examining the participants' responses.

The findings revealed that the reasons cited by trainees who dropped-out of the program were similar to those typically given by trainers, namely, scheduling conflicts, disasters and unforeseen circumstances (including personal and health-related issues), geographical factors, excessive requirements, and care work issues. Dropouts cited unique factors such as issues with trainers and mismatched qualifications, whereas trainers mentioned communication challenges, trainees' loss of interest, health-related issues, and technical concerns as reasons for dropping out.

The study also explored trainees' reasons for enrolling, trainers' approaches to trainees who drop out, trainers' encountered challenges, and other potential mechanisms. The results of this study can provide the institution with required knowledge to understand the cause-and-effect links between the factors influencing trainee dropout and to develop effective strategies to lower the high dropout rate. Recommendations on how the institution can lower the dropout rate are provided.
Research Home