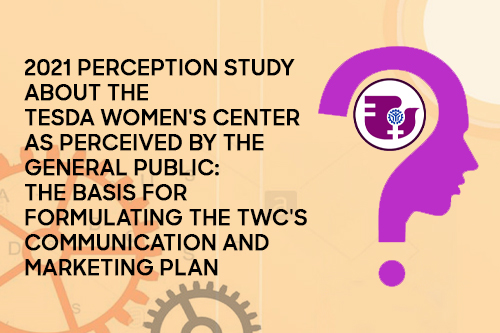 2021 Perception Study about the TESDA Women's Center as perceived by the General Public: The Basis for Formulating the TWC's Communication and Marketing Plan
The purpose of this study was to explore the perceptions by collecting impressions, opinions, and views of the general public about the TESDA Women's Center (TWC) in order to generate a substantive theory regarding the public's awareness of the Institution and to be used as a basis in developing an effective Communication and Marketing Plan.
This study is an effort to find out and measure how the general public views and feels about the TESDA Women's Center in consideration of the twenty-three (23) years of public service, especially for women's empowerment and gender equality promotion in the technical vocational education and training (TVET) sector.
This quantitative study used an online perception survey tool in an attempt to determine the extent of a relationship between the respondent's demographics or profile and their subjective impressions, if any, about TWC.
Through this research, the Center will have a foundation of the public's opinions or even misperceptions about TWC aimed at bridging the right and effective communications to the public by means of a well-grounded communication and marketing plan and strategies.
Research Home