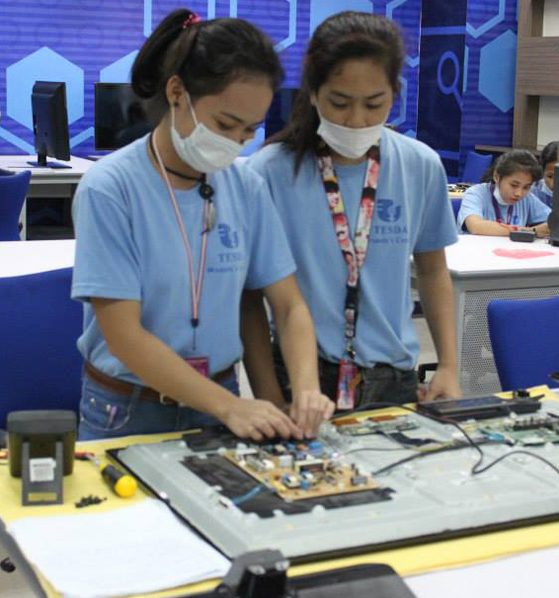 A Study of the 21st Century Skills of Selected Trainees at TESDA Women's Center
The study was conducted to determine the level of competence in terms of 21st Century Skills among the selected trainees of the TESDA Women's Center. The study used the descriptive research design with a total of 150 TWC trainees enrolled in Automotive Servicing NC II, Bartending NC II, Cookery NC II, Food and Beverage Services NC II, Food Processing NC II, Gas Metal Arc Welding NC II, Housekeeping NC II, and Shielded Metal Arc Welding NC II. The mean and standard deviation were used as statistical tools. The results led to the conclusion that the trainees find it difficult to adjust and acquire the 21st century skills which are imperative in the tech-voc program and education.
The study recommends to put forth more efforts to properly inculcate the 21st Century Skills to the TWC trainees. It can be done by revisiting the curriculum of the different qualifications to initiate development and revision, review of training regulations, and incorporation into the day to day classroom discussions and workshop activities. The TESDA 21st Century Skills were incorporated in the Basic Competencies of the curriculum and currently in its pilot test stage at the TESDA Women's Center. These include creative problem solving, critical thinking, decision making, English comprehension, English functional skill, innovation, math functional skill, multitasking, planning and organizing, problem sensitivity, self motivation, social perceptiveness, stress tolerance, teamwork and workplace ethics.
The study was conducted by the TWC Guidance Councelor, Michael William H. del Rosario in collaboration with the Philippine Talent Mapping Initiative (PTMI) in 2016 and completed in 2018.