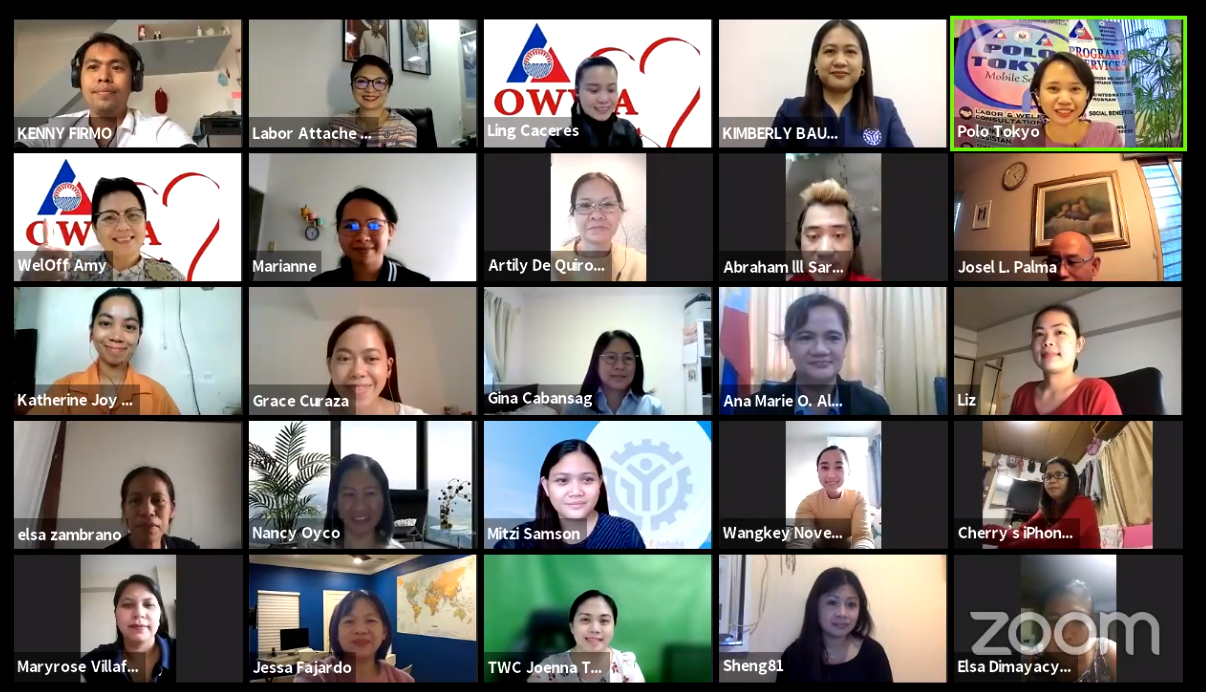 TWC Trainers as Resource Persons to the OWWA-POLO Japan Webinar
03-14-2021
On March 14, 2021 trainers of TESDA Women's Center (TWC) were tapped as Resource Persons to the OWWA-Philippine Overseas Labor Office (POLO) – Japan Webinar entitled Orientation of TESDA Online Courses and Training on Proper Table Setting and Bed Making.
In the Opening Program, His Excellency Jose C. Laurel V, Philippine Ambassador to Japan delivered the welcome remarks to the participants. In his message, he gave gratitude to all the women in the world. He expressed the important contribution of women in all sectors especially the women who performs extra-ordinary roles in the society. He said that the Philippine Embassy salutes all "Wonder Juanas" for contributing in nation building of their homeland (Philippines) and in Japan. He also thank TESDA for becoming an instrument of change in the lives of the Overseas Filipinos (OFs).
The TESDA Director General Sec. Isidro S. Lapeña, Ph.D., CSEE, conveyed the important contribution of women throughout the years especially now, in the time of pandemic. He said that women around the world played a very crucial role even in the most uncertain times. He also acknowledged the contribution of OFs who were still working despite the threats of COVID-19 pandemic. The TESDA Secretary also expressed his gratitude to OWWA-POLO Japan for collaborating with TESDA and by giving the chance to extend its programs and services to the OFWs in Japan through the Reintegration Training Program.
The TWC trainers conducted an online lecture and skills demonstration. Ms. Kimberly G. Bautista, Senior TESD Specialist and Trainer, Food and Beverage Services NC II discussed and demonstrated Proper Table Setting for fine dining and Ms. Anamarie O. Aldesimo, Trainer, Housekeeping NC II discussed and demonstrated standard hotel Bed Making.
Also, in this webinar is Ms. Redilyn C. Agub, Chief, e-TESDA Unit discussed the TESDA Online Programs and the courses that can be accessed by OFs.
The webinar is a result of the partnership between TWC and POLO Japan. It intends to conduct successive online lecture and skills demonstration for the Overseas Filipinos (OFs) in Japan. It aims to encourage more OFs in Japan to upskill and enroll to more extensive online courses through the TESDA Online Program. The webinar was hosted by Embassy of the Republic of the Philippines to Japan through the Philippine Overseas Labor Office and the Overseas Worker Welfare Administration (OWWA) in celebration of the 2021 National Women's Month.