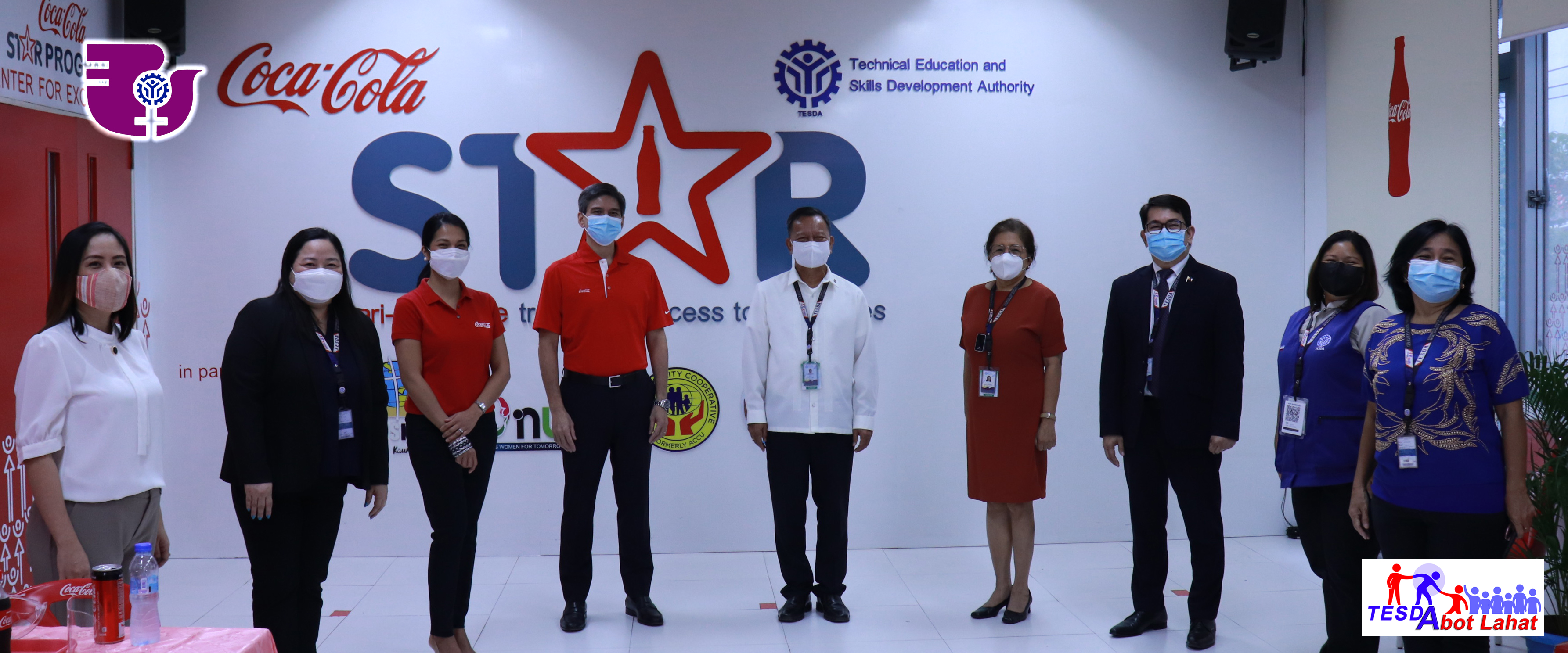 Coca-Cola Philippines President visits TESDA
02-10-2021
On February 10, 2021 Mr. Antonio "Tony" Del Rosario. President, Coca-Cola Philippines and Vice-President of Franchise Operation for Coca-Cola East Region (Philippines, Vietnam and Cambodia) visited TESDA and made a courtesy visit to Sec. Isidro S. Lapeña, PhD., CSEE.
Mr. Del Rosario together with Ms. Jonah de Lumen-Pernia, Coca-Cola Philippines Public Affairs and Communications Director and Ms. Joy M. Munsayac-Cacal, Coca-Cola Philippines Public Affairs and Sustainability Manager had a short meeting with the TESDA Secretary together with DDG Lina C. Sarmiento, Deputy Director General for TESD Operations, DDG Aniceto D. Bertiz, Deputy Director General for Partnership and Linkages, and Dir. Sonia S. Lipio, Executive Director for Partnership and Linkages Office at the Central Office and talked about TESDA and Coca-Cola Philippines continuing partnership. The meeting was followed by a visit at the Coca-Cola Philippines STAR Program Center for Excellence located at the TESDA Women's Center and have a quick photo opportunity together with TESDA and Coca-Cola officials.
Back in the year 2011, TESDA and Coca-Cola Philippines came together with for the Sari-Sari Store Training and Access to Resource (STAR) program, an an entrepreneurship training as part of the 5 by 20 global initiative of Coca-Cola to empower women entrepreneurs. The program successfully ended in 2020.
Following the success of the STAR Program, it evolves to become the iSTAR Program. The iSTAR Program is an entrepreneurship training that uses digital platforms to reach more micro-entrepreneurs. The training consists of online self-paced learning sessions and business coaching sessions developed by TESDA and Coca-Cola to helped businesses that were badly hit by the ongoing pandemic crisis.