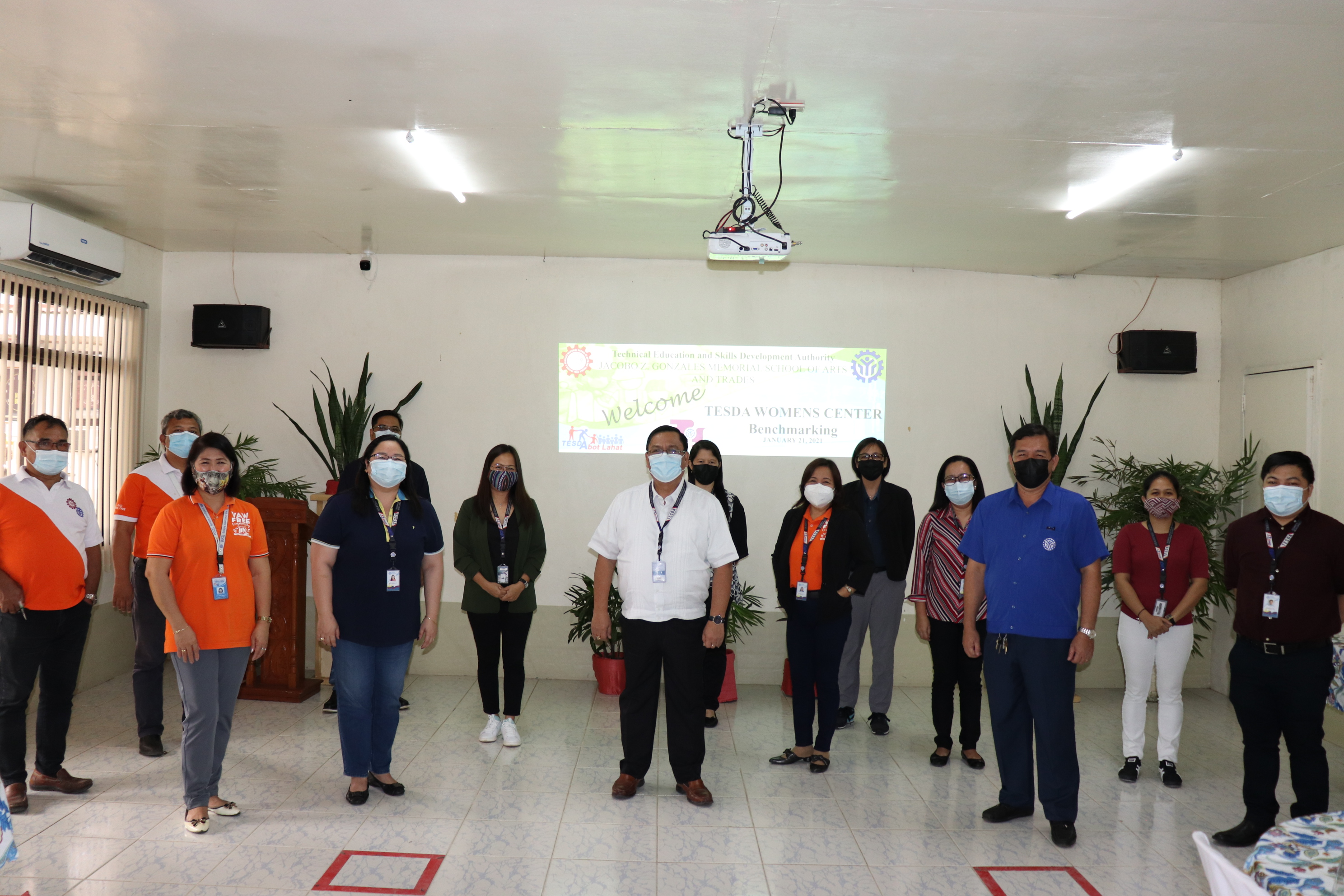 TWC Conducts Benchmarking Activity at Jacobo Z. Gonzales Memorial School of Arts & Trades
01-21-2021
On January 21, 2021 TESDA Women's Center (TWC) conducted benchmarking activity at the Jacobo Z. Gonzales Memorial School of Arts & Trades (JZGMSAT) in Biñan, Laguna.
The group of TWC headed by Ms. Angelica S. Gonzales, Center Chief and Ms. Mylene H. Somera, Supervising TESD Specialist together with TWC Unit Heads: Ms. Gerrelen D. Balbin of Training Management Unit (TMU) and Ms. Ritchie U. Briagas of Finance and Administrative Support Services Unit (FASSU) together with Assistant Unit Heads: Ms. Kimberly G. Bautista of TMU and Mr. Vicente II D. Ayala of FASSU. Also part of the team is Ms. Shella D. Bawar, Trainer of Bartending NC II.
Mr. Benito G. Reyes, Vocational School Administrator led his team in welcoming the TWC team in JZGMSAT. The team of JZGMSAT is composed of Mr. Erwin E. Laberinto, Vocational Instruction Supervisor, Ms. Cristeta Dacumos, Head of Tourism Department, the members of faculty and staff.
The TWC Team was presented with an audio-visual presentation (AVP) followed by a presentation of related information and best practices about the Diploma in Hospitality Management Services. A guided tour of the facilities were given to the members of TWC to give a clear picture and to see first-hand look of the process and best practices JZGMSAT is implementing.
As TWC is aiming to become a Specialized Institute, it also continuously searching for alternative approach to improve the delivery of its programs and services, formulating relevant policies, establishing mechanisms, and capacitating its people.
The benchmarking activity aims to identify best practices of JZGMSAT and identify improvements which can be adopted by TWC.
Photo Credits: Jacobo Z. Gonzales School of Arts & Trades